Beaufort County NOW Reaches Regional Accreditation
We are there, and we have far to go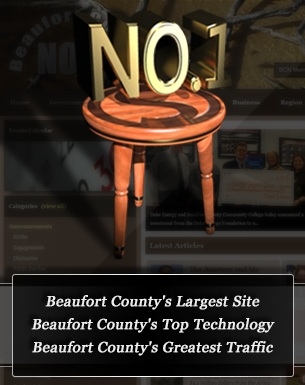 What takes an internet publication from a local communication portal - just so one might cry out a few salient ideals - to that community's dominant player, to a regional juggernaut?
I could submit that gained path in soaring rhetoric, but, instead of belaboring that point, I shall manifest the proof of regional sustainability of place and purpose, and promise that we will not stop until we have sustainable regional domination ... and even then, we're not about to stop or slow down. At some point, time and investment permitting, we will step on the gas.
My estimation of northeastern North Carolina comprises the counties of Beaufort, Martin, Bertie, Hertford, Gates, Chowan, Perquimans, Pasquotank, Camden, Currituck, Dare, Hyde, Tyrrell, Washington, Pamlico, Craven and Carteret, and of these 17 counties, BCN may well be the top site representing this rural waterfront region.
Is the top site in all of these counties as per that readership? Not hardly, and we do not contend to be.
We only know that we are the top site originating from Beaufort County, and by a wide swath. For all the other 16 counties of this region, we are just bigger than their local publications in size and traffic, so we have readers, and as the region's first and only Moderated Informational Platform, we are set to serve all readers of all counties in this region.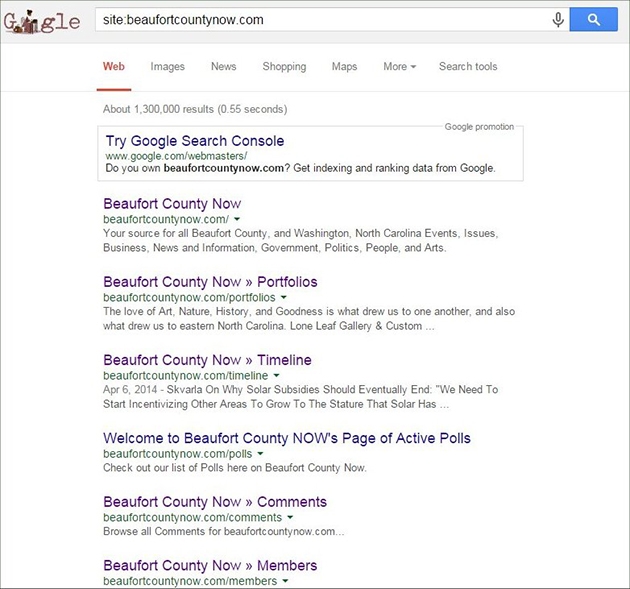 Indexed pages in Google, with all data centers reporting, suggests that BCN has 1.3 million pages that are routinely Searched. This alone puts us No. 1 in the aforementioned 17 county region, including all newspapers and WCTI-TV: Above.
And what does that entail? Those that join BCN can submit their news, their press releases, their thoughts, hopefully some well constructed, and in their participation, these members become part of this communication organism, part of our growing BCN family, part of our more efficient process of communication.
Because of BCN's huge traffic increases and Searchable indexed pages, we accept our fate as a regional communication mechanism, and brace ourselves to pledge our service to our readership and our clients, current and perspective, with the finest efforts of the most complete leading edge, proprietary internet technology known to this part of our World.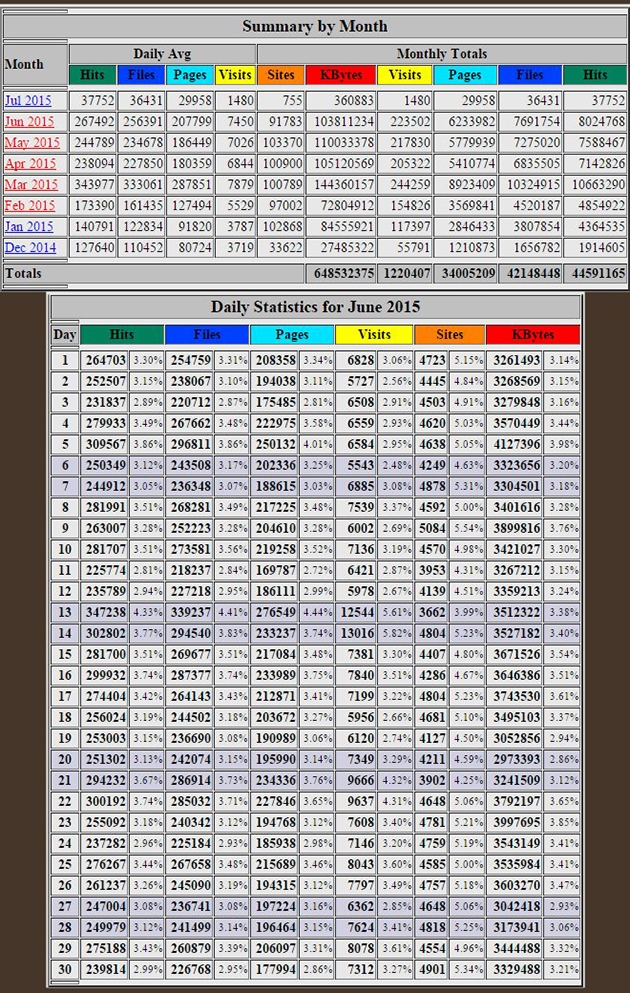 BCN's June traffic is steadily up: Above.
You may have noticed Beaufort County NOW's headers showing images from all over northeastern North Carolina, with our logos now fully expressing our purposeful intent. It is an intent that will not waiver and will continue as long as I can find smart, ambitious leaders of tomorrow's citizens. Every pledge needs its fine purpose, and committed personnel, and we shall continue on that purposeful path.
If you have an interest in excellence, and a firm need to compete bigger and better than your competition on the internet, you may wish to contact:
Stan Deatherage
,
Accounts Manager • Publisher of BCN • President of Symbiotic Networks, Inc.
SNI#
(252) 946-1132
• cell#
(252) 944-3905
•
stan@beaufortcountynow.com
Chris Downey
,
Accounts Manager • Chief Technical Consultant
support@symbioticnetworks.com
| | |
| --- | --- |
| | This post should have been written almost three weeks ago, but with all that has transpired, I have been busy of late, and I have written very little about many things, but still have most of these worlds still whirling around in my head, so here goes. |
| | |
| --- | --- |
| | Beaufort County Now has had an exemplary year, but November, 2015, after our best month ever, October, 2015, started with a whimper, but finished with a bang to top our best month ever for Unique IPs per day. |
| | |
| --- | --- |
| | It was close, but BCN's October, 2015, month of daily traffic ascended to a level that allowed Beaufort County NOW to capture the 'brass ring' of sustained popularity to monthly best that blowout time of March, 2015, by the slimmest of margins. |
| | |
| --- | --- |
| | Beaufort County NOW (BCN), northeastern North Carolina's only moderated Informational Platform, had yet another second best month in a row, and consistently improved in traffic, or was it our best? |
| | |
| --- | --- |
| | Beaufort County NOW (BCN), northeastern North Carolina's only moderated Informational Platform, has consistently improved in traffic from the drop in readership after March, 2015, which was the blowout month that 'took our breath away'. |
| | |
| --- | --- |
| | What takes an internet publication form a local communication portal - just so one might cry out a few salient ideals - to that community's dominant player, to a regional juggernaut? |
| | |
| --- | --- |
| | Beaufort County NOW (BCN) did not have its best month to date, but it did have it's third best month so far this year, which means it was our third best month since we began it September, 2009. We'll take it. |
Categories
Featured Services
Featured Clients